Stories
The World Health Organisation has declared 2020 the International Year of the Nurse and Midwife! In celebration, we proudly share with you stories about members of our integrated neurological nursing and administrative teams.
Meet Renae Heine - Integrated Neurological Nurse (Perth Metro)
Having worked in the acute hospital setting (including a stint in Darwin), Renae has seen people go in and out of hospital, particularly with neurological conditions.
This experience inspired Renae to become a nurse in the community setting because of the beneficial impact the profession can have on a person's life and its role in helping avoid unwanted hospital admissions.
Working with people, empowering them with education and support to live their best possible lives at home, also appealed to Renae.
Renae joined the Neurocare team in 2018. Some of her highlights since joining the team include attending a functional neurological disorder (FND) course in Brisbane, completing the Australian College of Nursing hospital refresher program during COVID-19, participating in the Fiona Stanley Hospital research project and the team's nomination in the WA Nursing and Midwifery Awards (two years running!). Renae is also looking forward to completing the Dementia Change Champion Program with Alzheimer's WA and becoming a dementia champion.
The most satisfying part of Renae's role is providing her clients, and their loved ones, with some peace of mind. Renae ensures that when her clients leave the hospital doors or neurology clinic, they have nurse support to follow them on their journey (through the good and tough times). Taking a different approach with individuals she works with, Renae finds it satisfying when a person reaches their goals.
Renae considers Telehealth to be one of the most beneficial developments she has experienced during her time as a Neurocare nurse. For Renae, the introduction of this technology made huge impacts on clients, especially during COVID-19 (when face-to-face support and education was most needed). Another exciting experience for Renae has been the Dementia Change Champion Program as it has adjusted her way of thinking and caring for people living with dementia.
When asked what inspired her to become a nurse, Renae said: "My mum. I don't know how she managed five kids and a nursing career! I started as a dental nurse and quickly realised how much I loved patient care more than the job itself. I decided nursing would be the way forward for me. I started studying it and absolutely loved it! I did my post-grad at Swan Districts Hospital (now closed down) then moved to Darwin and worked in the NT at Royal Darwin hospital."
For Renae, the International Year of the Nurse and Midwife means: "Celebrating how lucky we all are to work in such an amazing field of work. How privileged we are to assist those in need! Nursing is not for everyone, you need to be a special sort of person, and this year is to celebrate the hard work and effort by all nurses."
For aspiring nurses considering a pathway into community nursing, Renae says: "It's such an amazing field; you can have a real connection with each of your clients, learn their needs and base a wellness plan around their individual goals. When a client can reach those goals, it is the most rewarding thing!
You learn so much about their neurological conditions, whether it be a rare genetic disorder or commonly diagnosed condition, and my depth of knowledge is far beyond what I ever imagined. Seeing the struggles a patient can face from leaving the hospital doors and being the ones that can help is so rewarding! Community nursing has made me more of a holistic nurse, and for that, I am so grateful!"
Outside of work, Renae has a little boy named Jack and loves spending time fishing. In 2013, she was also a national finalist in Miss International Australia and travelled to Sydney for the event (coming in 3rd place in the finals!).
Meet Wendy McDonald - Integrated Neurological Nurse (Bunbury)
When a nursing position became available in 2012, Wendy jumped at the chance to join our Neurocare team. She had previous community nursing experience and identified with the role community nursing plays in client lives – especially in the transition from leaving the hospital and returning home.
Since joining the Neurocare team, Wendy has worked in three of our regional areas. This regional background has provided her with the opportunity to work with a group of people with a wealth of experience.
Wendy feels that the willingness of her colleagues to share their knowledge has helped her grow as a person and community nurse. She considers herself lucky to work in a friendly and supportive environment.
Wendy has also worked in the hospital setting, and this experience has highlighted for her the importance of community nursing in supporting discharged patients. For Wendy, ensuring support and services are in place, provides an opportunity to improve on the hospital discharge experience for clients.
Wendy feels privileged every day to be able to visit clients in their own home. To be welcomed into homes when clients are feeling vulnerable is something she will never take for granted. If Wendy can leave her client's home, having made them feel more comfortable and supported, then she feels a sense of achievement. Wendy says: "Community nursing is a different experience as it allows you to build rapport with clients and identify needs from a more holistic perspective."
A development that Wendy has found beneficial during her time at the NCWA has been the introduction of Telehealth. Wendy says: "This technology has improved access to services and has been invaluable in keeping clients and their carers connected with the Neurocare team. Having Telehealth in place during the COVID-19 pandemic has allowed our nurses to continue their role in delivering education and information and providing ongoing support."
For Wendy, the International Year of the Nurse and Midwife celebration: "Highlights and recognises the dedication and ongoing commitment of Nurses. It also spotlights the incredible role nurses play within our communities. This is an opportunity to raise the profile of nurses, not just in Australia but all over the world."

For aspiring nurses, Wendy says: "I would definitely say consider community nursing. The works offers you a completely different experience, provides you with the opportunity to support clients to live independently in their own homes! To experience the benefits for clients receiving care within their own home is evidence of how important our role has become! For me, it is rewarding to offer a service that allows clients and carers to be more involved in their ongoing care and to maintain a sense of independence. The role is extremely rewarding and can be very challenging."
What you may not know about Wendy is that when she was younger, living in the Perth hills with her family, she was a volunteer firefighter. She was part of the initial response team that responded to emergency call outs. Being a volunteer firefighter was rewarding for Wendy, as she relished the opportunity to give back to the community. She also found the camaraderie between the volunteers to be amazing.
In her spare time, Wendy loves the outdoors – walking, camping, and sitting around a campfire – anything to do with nature. She also enjoys photography and always has her camera at the ready!
Meet Stephanie Emmett - Integrated Neurological Nurse (Perth Metro)

Stephanie values the relationships she has made with her colleagues since joining the Neurocare team four years ago. Her experience is one of great team camaraderie through the sharing of knowledge, perspectives and experiences.
A highlight on Stephanie's calendar is the annual team get-together in Perth where she enjoys catching up with everyone and learning about what the other regions are doing.
Before commencing her career as an integrated neurological nurse, Stephanie enjoyed a few years of hospital-based nursing. While working in hospitals, Stephanie maintained an interest in how to best help people once they were back in their own homes.
As a nurse on a rehabilitation and stroke ward, Stephanie recognised a need for nursing support outside the hospital environment - not just for patients but also for partners and family members. She found that people were given a lot of information on the ward but did not take much of it in. Stephanie felt that access to a community nurse would help play a vital role in a person's long-term recovery and ongoing self-management.

In the community nursing environment, Stephanie often comes across complex or difficult situations where people are struggling to manage symptoms they don't understand. She finds it rewarding to realise that something can always be done to make things better, even by simply discussing the situation with someone who has an understanding of what is going on.
Stephanie says: "I like that the longer you work in the neurological and community area, the larger your network of resources becomes, enabling you to become a solid source of information for clients and to be able to navigate some of the trickier aspects of health care."
In her role, Stephanie has found she can access information that is not necessarily communicated by the client or family. She likes the opportunity of being able to get an accurate and holistic view of a person's world outside of their medical condition to start being able to work with them on whatever needs they need to address.
Stephanie says: "The relationships and trust that are built over time with clients is extremely rewarding. I have some wonderful conversations with clients and their families, some really funny ones as well."
For Stephanie, 2020 the International Year of the Nurse and Midwife is "an opportunity to highlight how far nursing has come and how much of an integral part of the health team nurses really are - more than just assistants to doctors!"
For aspiring considering a pathway into community nursing, Stephanie says: "If you are interested in health as a holistic concept that encompasses physical, mental, emotional and social considerations – and you don't mind a bit of troubleshooting and trying to manage expectations – then community nursing is a great opportunity."
Outside of the world of community nursing, Stephanie loves walking, listening to podcasts, practising yoga, playing with her dog and fishing (she doesn't love cooking, but she wished she did!). She also has spent time travelling the world and has spent several years living in England and Scotland and skiing all over Europe and New Zealand. These days Stephanie still enjoys travelling but has become more of a homebody – she counts Australia as the best place to live!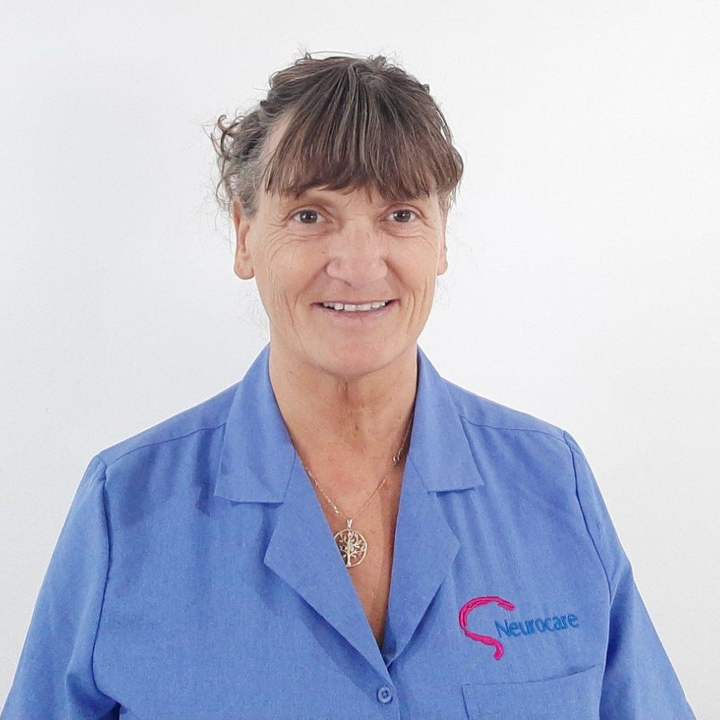 Meet Eileen Murray - Integrated Neurological Nurse (Bunbury)
Eileen grew up in a small rural community in Scotland where community nurses played an important role. She also personally gained exposure to community nursing with members of her family receiving nursing support.
As a young and impressionable girl, Eileen's dream was to become a community nurse. This dream was fostered by the bond she felt with the nurses her family received support from. They felt part of her extended family.
As an adult, Eileen initially found the path to becoming a community nurse long journey. She was ecstatic and overjoyed when the Neurological Council of WA (the NCWA) gave her the opportunity to become a community neurological nurse. This fulfilled Eileen's childhood dream.
Eileen joined the Neurocare team at the NCWA in 2014. Since joining the team, Eileen has found great support in her colleagues and never feels alone in her job. She thrives on the diversity of her role and enjoys dealing with the many aspects of client care and the challenges she faces.

Eileen feels humbled and privileged to be able to help her clients and their carers in their journeys. She finds great satisfaction supporting people to navigate the system and empowering them to remain at home. Eileen values the relationships nurtured during times of joy as well as sadness.

Eileen's words of wisdom for aspiring nurses are to consider a career in community nursing as it is challenging, exciting and rewarding in so many ways. Every client has their own story and you have the opportunity to build trusting relationships.
Meet Claire Stoddard - Neurocare Navigator (Perth Metro)
Claire joined the Neurological Council of WA (the NCWA) in 2016 after moving to Perth from the United Kingdom. Before moving to Perth, Claire had lived all her life in Stoke-on-Trent and had worked for the same employer for nearly 28 years.
After taking the plunge and moving to Perth with her husband, Claire found applying and interviewing for new jobs daunting. Her first interview was at the NCWA. When Claire was offered the opportunity to work at the NCWA, she was very pleased and hasn't looked back.
Initially starting as a receptionist, Claire was provided the opportunity to widen her scope, moving into healthcare administration supporting the NCWA's Neurocare team. In 2019, she was appointed to the role of Neurocare Navigator.
Her role at the NCWA is different from what Claire has been used to in her career back in the UK and one that she thoroughly enjoys. A typical day for Claire includes managing new referrals; updating systems with new client details (including wellness support plans); submitting referrals to My Aged Care (for domestic assistance, social support, and equipment for clients); and supporting the Neurocare team with other healthcare-related administration.

Claire finds satisfaction in seeing elements of her working coming together to become a positive outcome for the client – from the initial new client referral to the final result in the form of a wellness/support plan. She says: "It feels good to know that we are helping people in the community to be safe in their home and hopefully they don't feel alone – we are always here to offer support."
For aspiring nurses or health care professionals considering a pathway into community nursing, Claire says: "There will be many challenges along the way but the end rewards can be so worth it – especially making a difference to people's lives. If you're facing challenges, take each day as it comes, do your best and be kind.
Even though I'm not a nurse and have no medical background, I can truly appreciate what a hard job and often challenging job that ALL nurses do. We should celebrate our nurses and support them for the wonderful job that they do."
Outside of her working life at the NCWA, Claire and her husband are big soccer fans. For several years they were members of the England Supporters Club and travelled overseas for many games. A highlight of Claire's adventures includes a trip to Moscow in 2007 for the European Championship Qualifier Game – England versus Russia (England lost 2-1!!)